VIRTUAL IMATRANAJO 2021
THE BEST ONLINE PLAYERS IN THE WORLD WILL BE COMPETING FOR THE VIRTUAL IMATRANAJO CHAMPIONSHIP!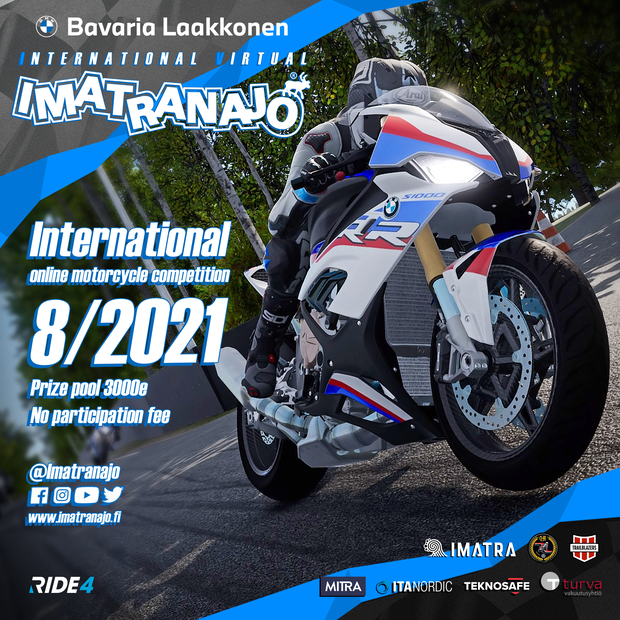 Players will be competing in Ride 4 motorcycle racing simulator.
The final race will be held in Imatra, Finland August 27-29 2021.
Free entry for spectators and players.
*
The Motorclub Imatra and e-sports organizer Trailblazers will be organizing the International Virtual Imatranajo 2021 on the last weekend of August. It is a unique online motorcycle racing event, with players competing not only for the winner of Virtual Imatranajo, but also with a prize pool of thousands of euros.
Compared to last year's virtual event, this year the quality of the event will be raised even higher, as all international competitors will be able to participate in the competition. The champion will be crowned after a six race championship, with the final track being the Imatra street circuit.
Bigger and better! Spectators will get to try their hand on a wide range of games!
The final race will be held in Imatra, Finland on the 27th-29th of august, in the biggest wooden school building in Finland. Imatra Mansikkala school center will become the stage for the Virtual Imatranajo event, and spectators can gather around to see the final battles of the championship.
Last year was organized the first ever Virtual Imatranajo. The one-day-event gathered almost a 1000 spectators to the center of Imatra, with online views up to 23 000 times.
"I've played the Ride 4 simulator a lot with gamers from all over the world, and I must say the level is extremely high. Racing is very exciting both "live" and online, but also very challenging. You must be 100% focused." Says Martti Solja, one of the organizers of Imatranajo.
"This year everything will be bigger and better. Our goal is to get up to 2000 visitors on location and 50 000 viewers online. There will be about 100 hours of streamed live content. We will be following all the necessary COVID-19 restrictions and safety measures." Says Erno Salmela, event oganizer at Trailblazers.
In addition to the Virtual Imatranajo, the Mansikkala school will have plenty of motorsports related games, simulators and LAN-gaming. There will also be other popular online multiplayer games such as CSGO, Rocket League, Fortnite and NHL.
"We have asked the local youth's opinion and they are hoping for more gaming opportunities, and this is one answer to their call." Says Niina Kupiainen from Imatra youth activities organizer Niina Kupiainen.
The spectator games are aimed for the whole family, there will be games from six decades, from the first commercial games of the 70's to the current Virtual Reality games. The spectators will also get to try their hand on the Imatranajo simulator.
The event will have free entry, made possible by the partners of the event.
Additional information:
Martti Solja (Imatranajo and Ride 4 topics) +358 40 500 3626 martti.solja@imatranajo.fi
Erno Salmela (Event organizing and content) +358 50 322 6418 erno.salmela@lut.fi
Niina Kupiainen (Youth LAN gaming topics) +358 20 617 7201 niina.kupiainen@imatra.fi