Wet opening for Imatranajo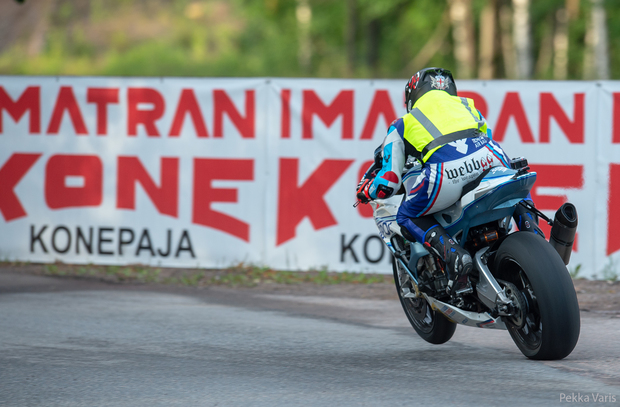 Friday dawned grey in Imatra, but the weather cleared before afternoon's first practice sessions, giving hope to a dry afternoon. Sadly, just before the first practise session, newcomer free practise, a dark cloud appeared giving a shower, which made it more difficult for the newcomers to learn the track. The fastest time of the session was clocked by Kalle mäntysaari (Open 1000), second was Matthieu Lagrive (IRRC Supersport) and third fastest time went to Felix Nässi (Open Supersport).
After the earlier, relatively light shower the track started to dry out, but just as the Open 600 class was set to roll out, the heavens opened again making the track completely wet. Out of his sick leave Horst Saiger showed the power of experience and was fastest. Pauli Pekkanen, who's showed good performance in Imatra earlier, was second fastest and third place went to Pierre Yves Bian. The fastest times were in 2.16's, very respectable pace for a soaked track.
During the Open 1000 session the rain ended and track started to dry out slowly in the sunshine. The fastest was again Horst Saiger by a marginal of about two seconds with Marek Cerveny on second and Marko Rättö on third.
The next class out was Lightweight, where Henrik Voit was on the top with local star Timo Kallio, who sadly suffered an engine failure at the end of the session, on second. On third place was Tonny Wassing, less than two seconds slower than Kallio.
The day's most exciting session was IRRC Supersport on still drying track. The session's top-5 were within one second for the whole session, but Pierre Yves Bian managed a 2.10,556 on his final lap, making him the top dog with 2,5 second gap to reigning Finnish Superstock 600 champion, Felix Nässi, who's on the roads for the first time in this year's Imatranajo. Third was Pauli Pekkanen, right at Nässi's tail.
At IRRC Superbike class the local hero Erno Kostamo skipped the first, pace bike led sighting laps, arrived late on track and took the first place with a time of 2.01,226, a solid pace for a still partially wet track. Second fastest was Marek Cerveny and third the series lead, Danny Webb.
At the moment weather forecast predicts dry Saturday. The morning starts with qualifying for all classes and the first IRRC races will take place in the afternoon. Live results for Imatranajo can be found at https://www.race-monitor.com/Live/Race/70796.
Unofficial results for Friday practise sessions
(Photo: Pekka Varis)