Wepol Racing by Penz13 returns to the legendary GP Circuit in Imatra
After a successful debut at the Imatranajo in 2017 – Wepol Racing by Penz13 is looking forward to return to the legendary GP circuit from July 6th to 8th 2018.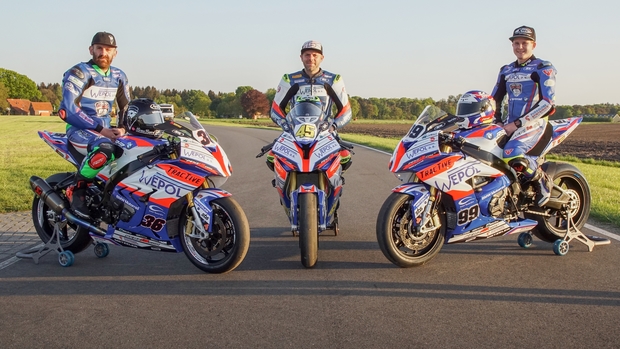 With eight out of nine possible podiums the Penz13 squad saw an impressive performance of their riders, especially of the late Dan Kneen and Michael Rutter with their race wins and three podium finishes by Italian Alessandro Polita. In 2018 the team will return with an all new line up of riders, while it will be a tough challenge to repeat the successes of the previous year.
IRRC leader Danny Webb will finally make his debut after missing out in 2017 due to an injury sustained in the practice week at the Isle of Man TT. The fast and flowing circuit shall suit his riding style and he certainly will be trying to extend his championship lead in Finland.
Marek Cerveny will be the one to watch as he will come to Finland with an extra bag of motivation after struggling to find the speed at his home race in Terlicko. Not far off the championship front runners the Czech rider certainly has the ability to win races which he did in Horice a few weeks back.
Jamie Coward, currently 5th in the overall IRRC standings, showed a fine performance in Terlicko and slowly gets to grip with the bike. His goal will be closing the gap to the front runners and looking into his first podium challenge.
New to the team will be another international road racing star from the UK – North West Winner and multiple podium finisher of the prestigious Macau GP – Martin Jessopp will give his debut for the team at the Imatranajo. Jessopp will pilot a BMW S 1000 HP4 with electronic TT suspension, something he has never raced before. In 2017 Kneen and Rutter showed that the TT electronics work at least as fine as conventional suspensions with this being another great benchmark for the team's engineers.
Last but not least – Canadian Dan Kruger will give his comeback in the international racing scene after a long recovery from his injuries sustained in the 2016 China Superbike. Already having raced for the Penz squad in 2015 as team mate to the late Simon Andrews – Kruger will probably be the biggest question mark. His last real road race was the 2016 Macau Grand Prix but the team is convinced he can show a fine performance and learn a lot from his team mates.
A class act in quality – the five rider line up will certainly look for another glorious Imatranajo. However, though competition in the persons of local hero Erno Kustamo and German rider Didier Grams has confirmed participation in this legendary race.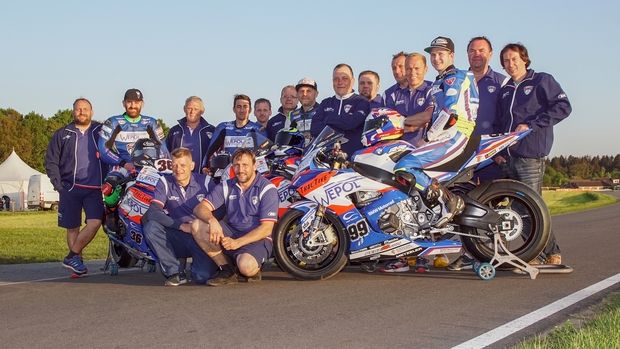 Danny Webb: "Imatra is another new track to me but I am really looking forward to race there. I sadly missed the event last year due to my practice spill at the TT. I am aware that the team expects a lot after they took nearly all podiums in 2017. The track shall suit me even better than Terlicko and with the new bike I have a great feeling . The team is doing everything they can to make me feel comfortable and this is what gives me the confidence to perform at my best and improving my riding style on the big bikes."
Marek Cerveny: "Terlicko was a bit of a disaster for me but I like the circuit in Finland. I will see if I can reset my confidence and adjust my work with the team. I certainly can learn from Danny and his crew and shall use this opportunity to find my speed again. I can't wait to get back on the bike and there is no better place than Imatra with its amazing atmosphere."
Martin Jessopp: "I know the team from various international events and we had been in talks several times to work with each other. Obviously the bike will be all new for me but I've seen what Michael Rutter and Dan Kneen had been able to do with the bikes last year. I heard a lot good things about Imatra and some of the IRRC riders are very fast – but I like challenges and I am looking forward to work with a new team, a new crew and new team mates – hoping to add on their recent success."
Dan Kruger: "I can't thank the team enough to give me the opportunity to race with them again. I must have done a decent job back then as it takes a lot of confidence and trust to give me another ride after I had these bad injuries. But I am back to full strength – probably more race fit than ever and I am looking forward to cross this race off my bucket list. I very much like the team while their bikes are always fast and well prepared. It feels a bit like coming home to my family and even though I am the oldest of the riders I can still learn a lot, especially from my mate Danny."
Rico Penzkofer: "This is probably the biggest team I have ever run – with five riders in three races it feels a bit like we are traveling to a 24h race in terms of logistics. But I have the best team supporting me – their commitment is immense and I would like to thank at this point every one of our mechanics for making this happen. Not to forget our team sponsors, especially Wepol, to gather such a lineup of riders not only takes a lot of men power, in order to give the riders the best equipment requires great support. I also like to thank the Imatranajo event organisers. We have been at so many races around the world and Imatra is certainly one of the best. It's not only the blistering atmosphere over there, the way they look after all the teams and riders and giving us such a warm welcome – it is certainly the team's favorite race in the calendar of the IRRC. We hope to having a similar success this year even though it will be more difficult as the quality of IRRC in terms of teams and riders is constantly increasing. So we have to bring up our best game and what better place on earth is there than Imatra to do so."